Assembled the oil baffle, pick up pipe and front cover onto the engine. I did think about polishing the timing cover, but decided it was too much effort for something you can't really see once the whole engine is built.
After that I cleaned the oil pan out and fitted that.
Next up made a start on the assembly of the heads. Checked all the valves were straight as I knew there was a high likely hood of at least one being bent. Turned out there were 4 bent ones. Just as well I had some spares. What was a bit unexpected was finding a broken intake valve guide. So I made myself a new one...
I marked out the combustion chambers to see how much material I could remove to un-shroud the valves. Turned out more on the exhaust side, but generally not very much. So it didn't take long to get that seen to on both the heads.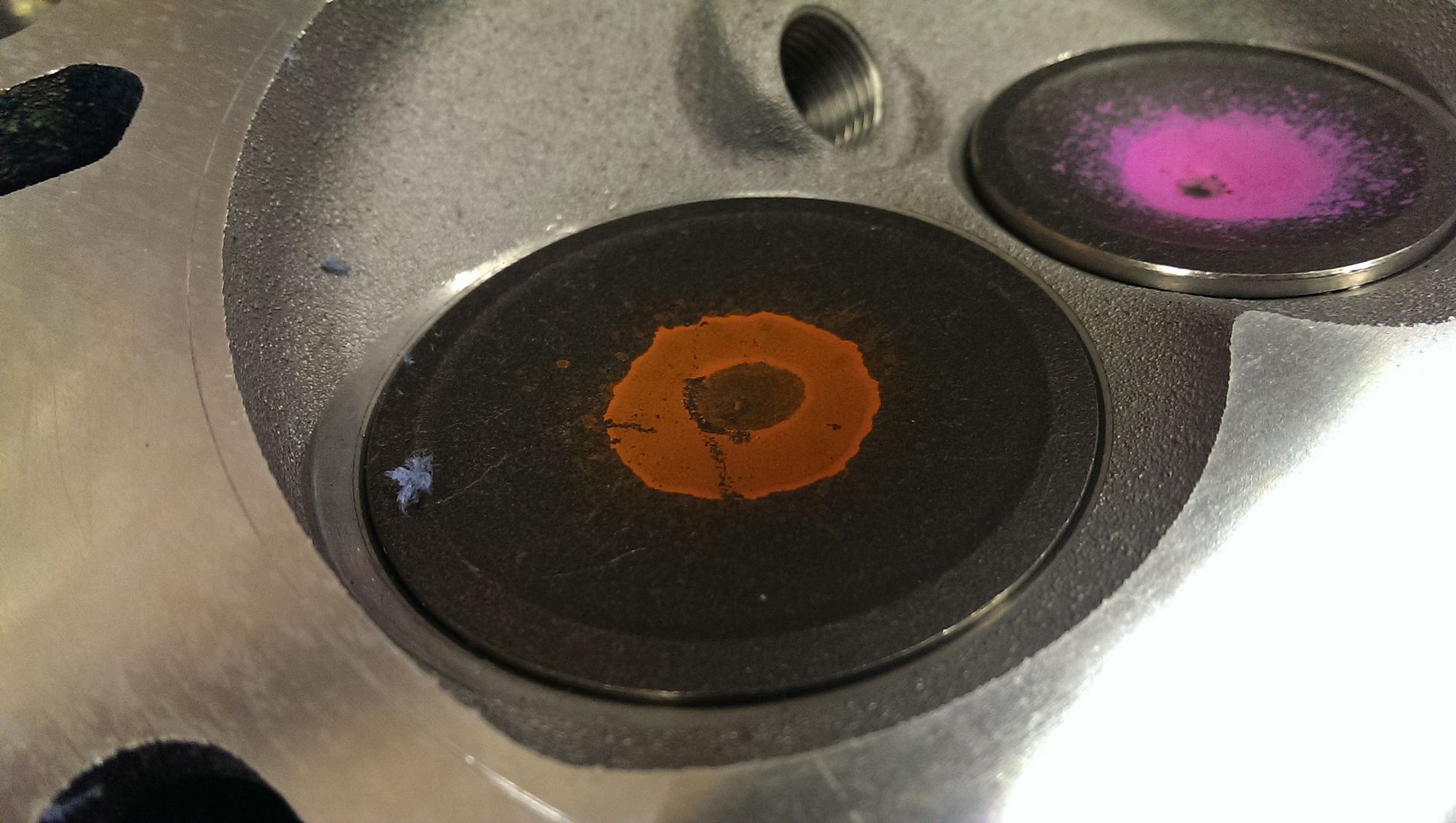 After all that I did have enough parts to get one head fully cleaned and assembled.
After that I soaked the lifters in a tub of oil and then fitted them to their retainers and into the block.
Then made myself a valley cover. I didn't have one with my engine parts and it only took 30 mins to make one.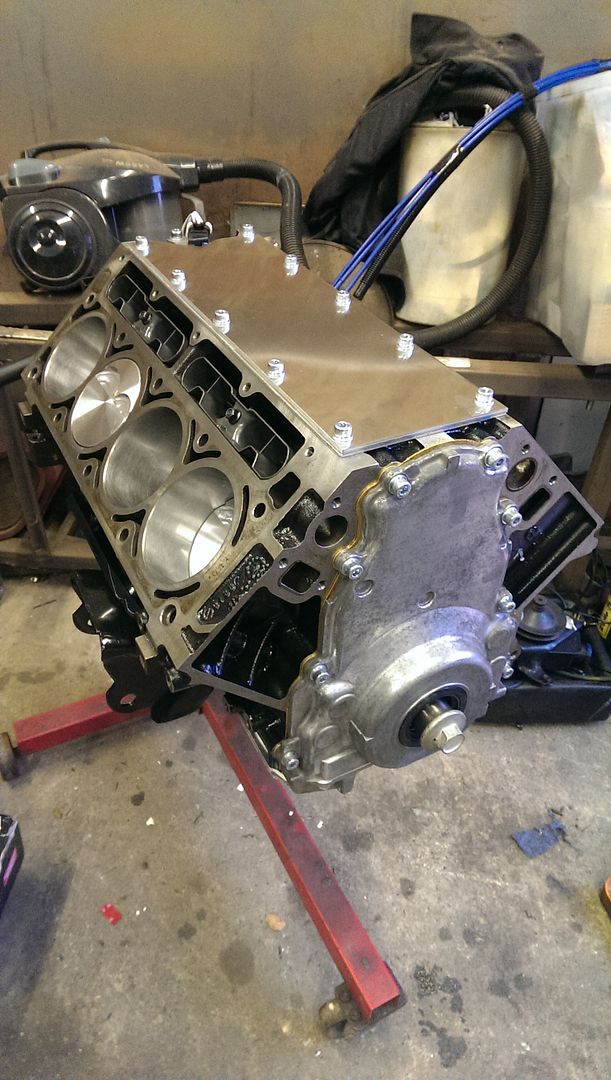 I found a piece of cast iron to machine a valve guide from. I did consider making a bronze one, as I have some, but it seemed a bit pointless unless I made 16 new ones, which I wasn't about to do! It took about an hour to machine one up, pleased with the result... spot the home-made one.
This was the extent of the chamber work, unshrouding the valves a bit. Don't want to remove too much material, this was about 3mm blended back toward the valve seat.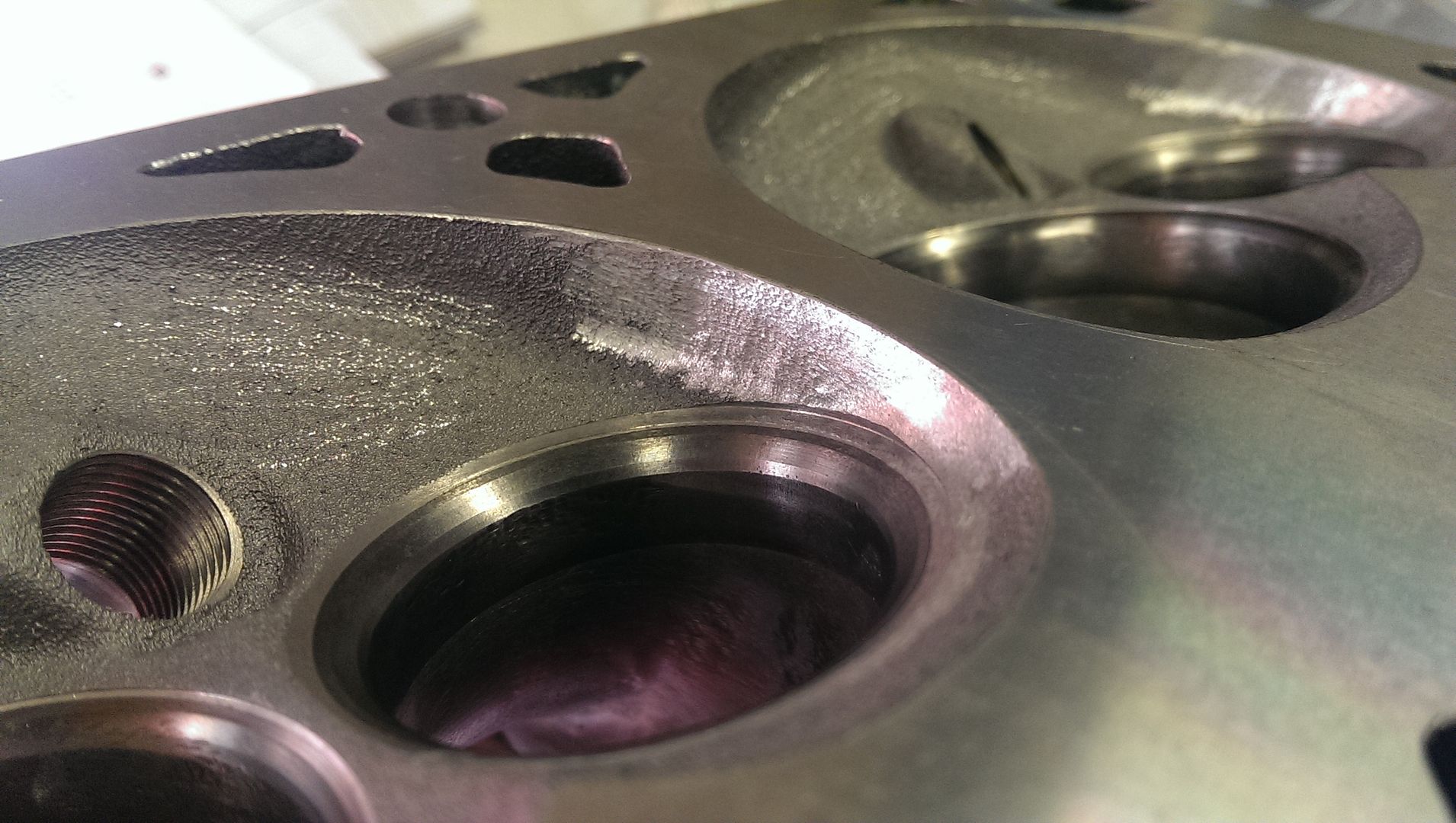 Next thing was to fit the crank damper and then find true TDC, shouldn't need it, but it's always handy for troubleshooting later on
Assembled the other head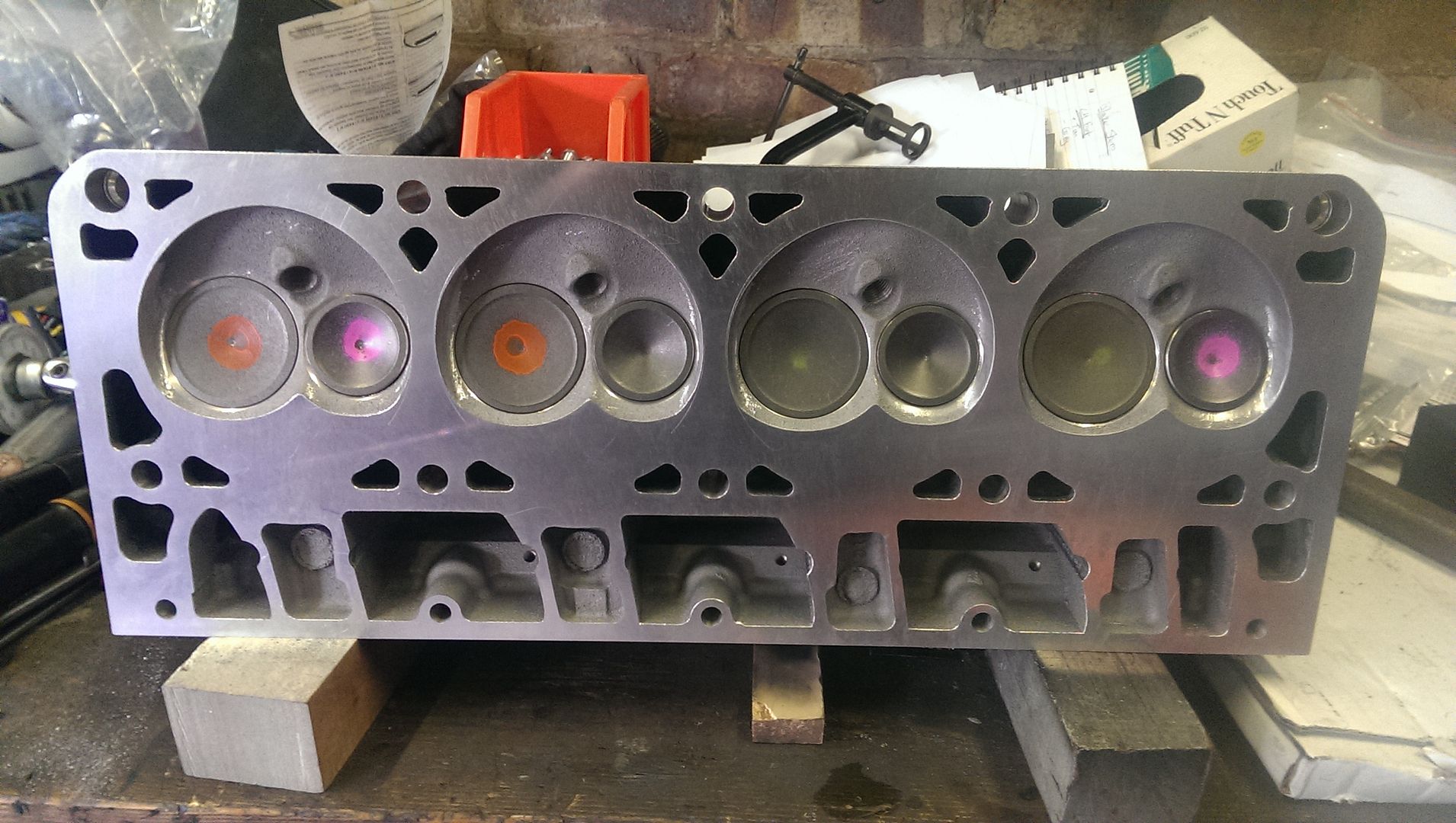 Popped it on the block, torqued it down and then installed the steam pipes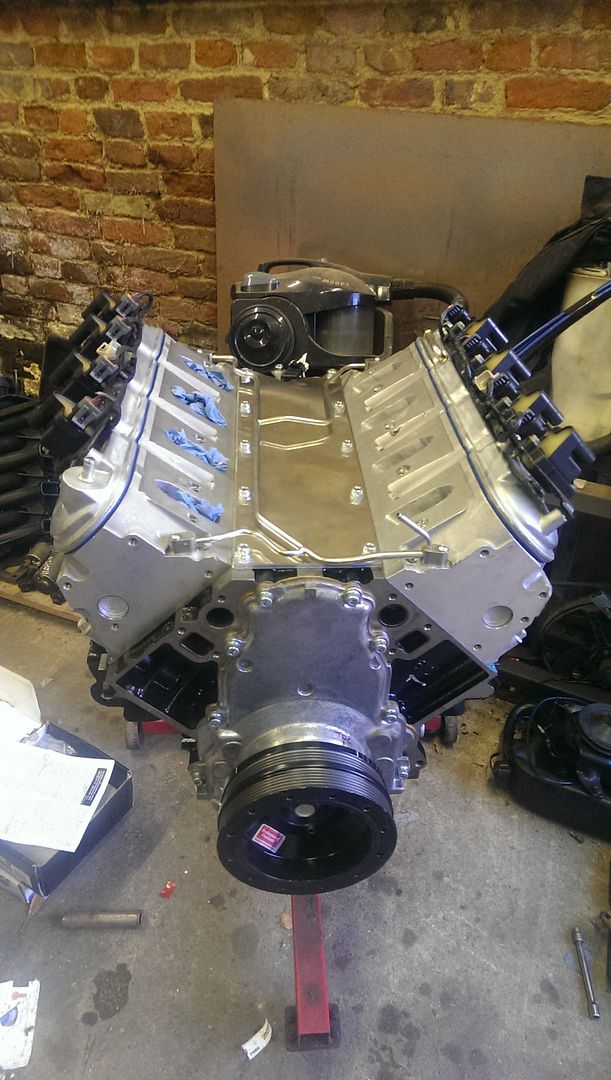 Finally the inlet manifold and throttle body. Thankfully it still fits fine after skimming 0.050" off each head - bolts were a little tight in the holes, but it seems to work. 102mm throttle body fitted to the front, should flow ok...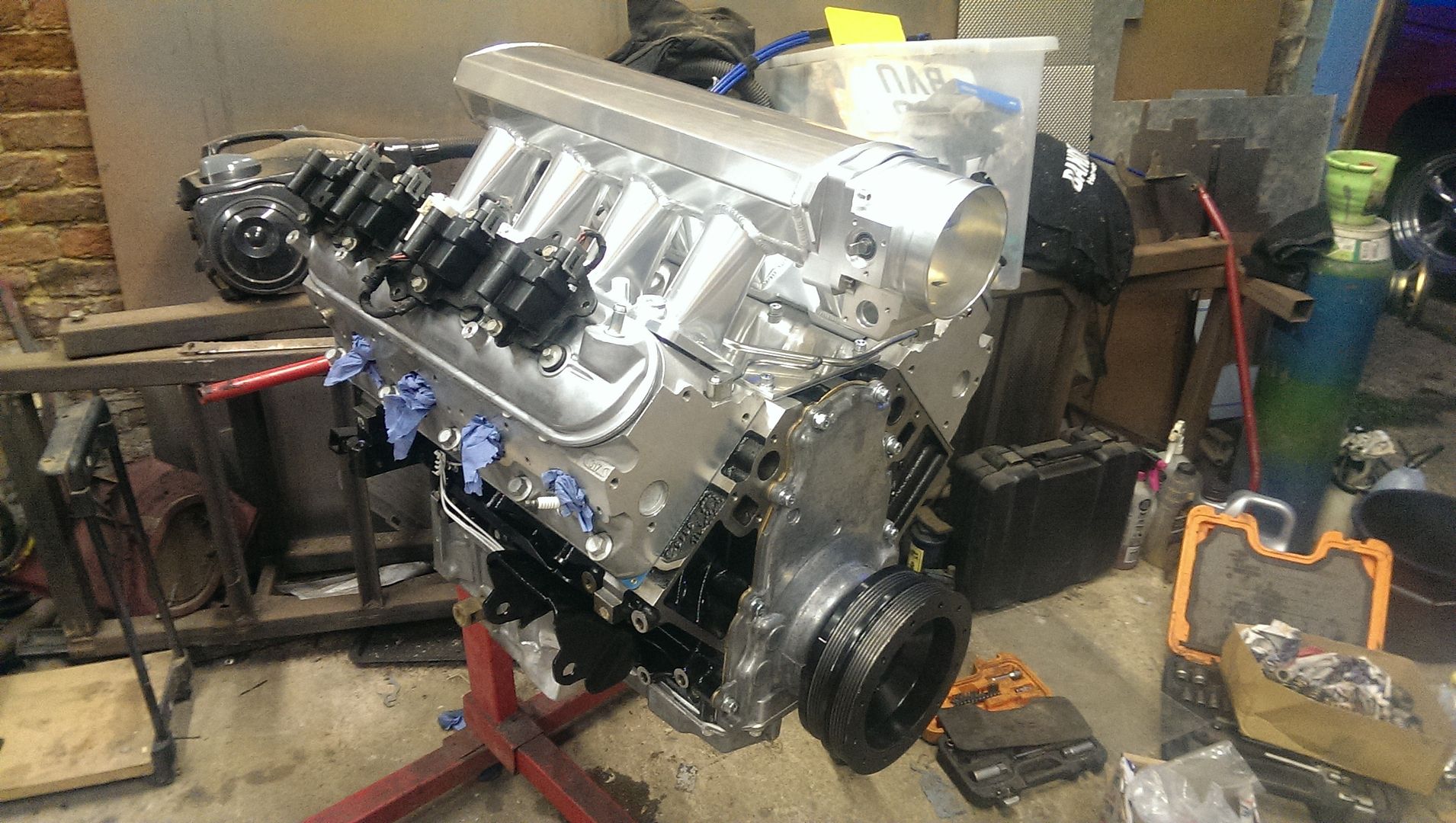 Next up, getting the accessory drive sorted.
The LS Camaro uses a low mount alternator to help with hood clearance. But the LQ block isn't drilled and tapped for the mounts, so I did that first. I also discovered that the Blazer alternator uses identical mounts to the LS one. And I have a spare one, and it only needs 2 wires to make it work.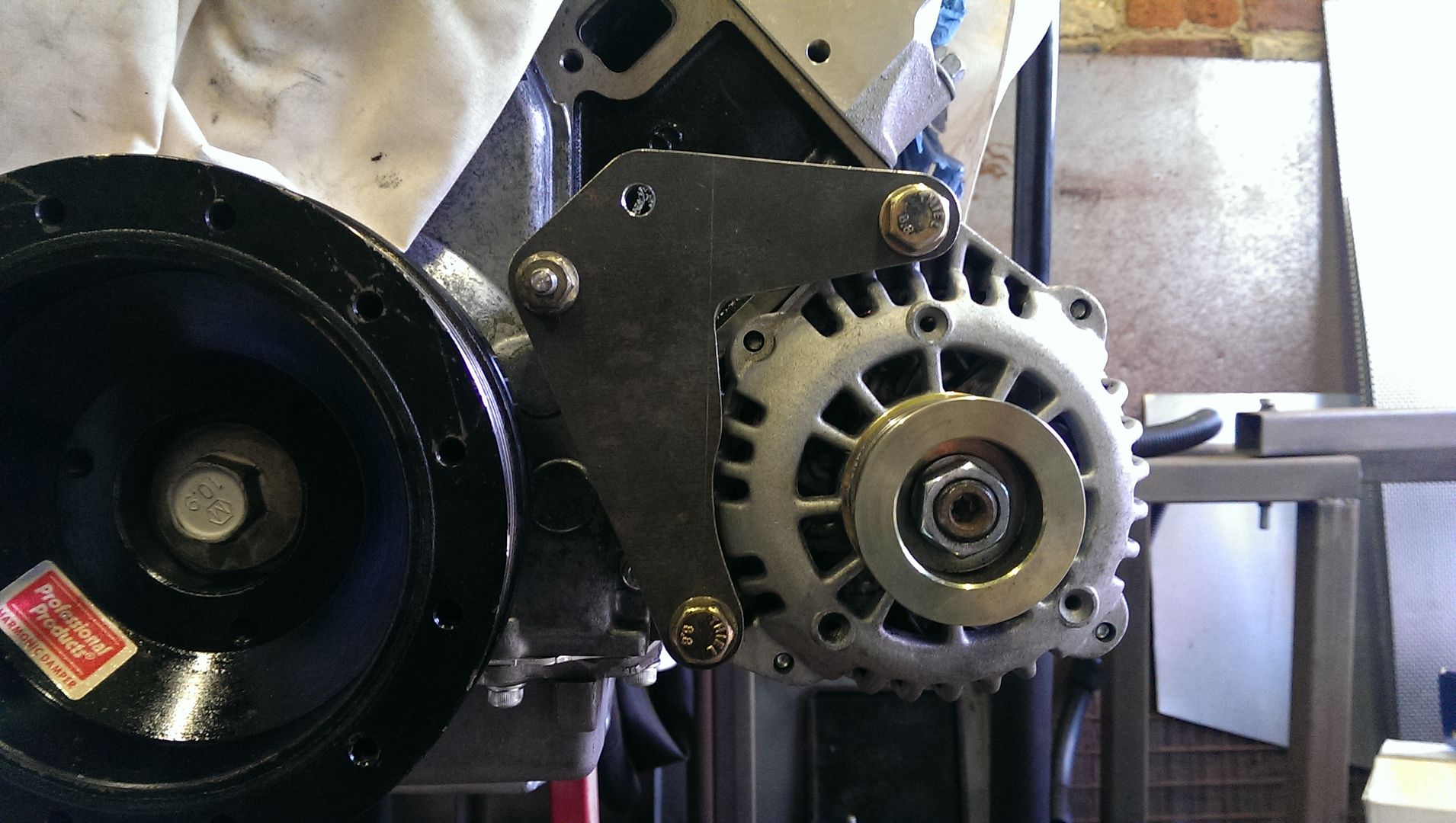 Worked in an idler to help with belt wrap too. It was a new one I had laying around, should be fine.
Using a steering pump from a late model V6 Camaro modified the original feed hose so that it will work properly. The remote tank will mount on the inner fender, after a quick measure up.
I also got the injectors and fuel rails installed. I'm using the 72lb/hr injectors that I had fitted on my injected SBC. They should be more than adequate and fit perfectly.
Lastly some permanent loctite to the screws on the throttle blade. It was either this or peening the ends to retain them. It's one of the things that I wanted to do to the Chinese throttle body. Other than that and a few sharp edges I can't really fault it for <$100...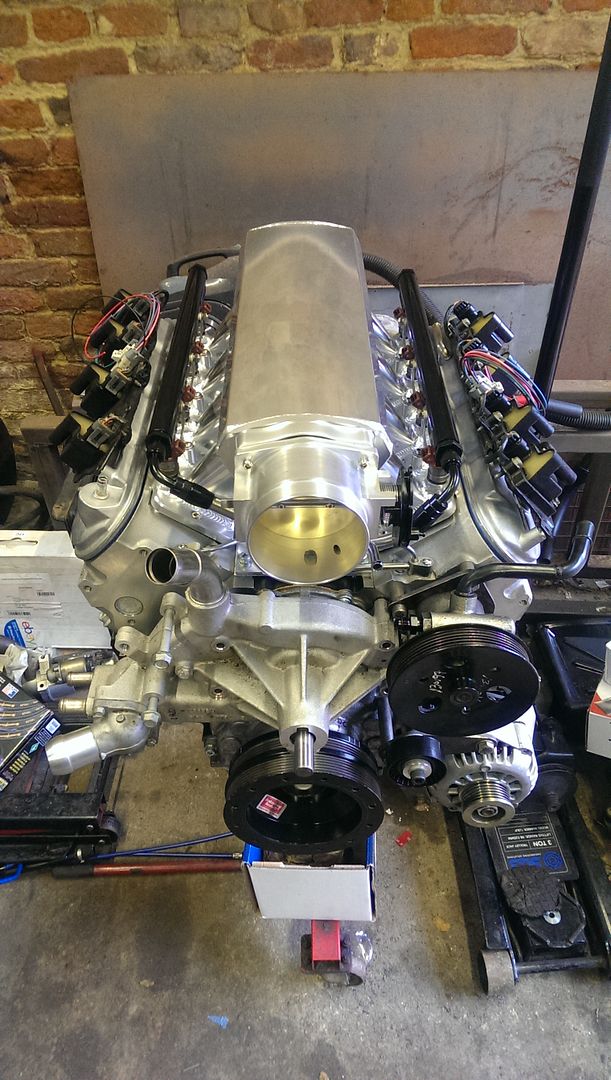 Onto fitting the motor in the car then....
I had to make a small adjustment to the idler arm and now have around 3/8" steering clearance! Yay!
Helped by a number of things, including moving the engine as far back as it will go on the mounts. I followed other peoples advice initially and set it in the 1" forward position. But I think it works nicely in the stock position.... this is using Dougs adapter plates.
After that I got the transmission crossmember installed, this confirmed the transmission is in the same place as it was with the small block. If anything it's 1/4" further back...
The the driveshaft and a few other bits were hooked up.
The oil pan that I modified hangs just below the crossmember - I made this to the same height as the CTS-V pan knowing that this would happen. I don't run the car too low anyway, so it should be fine.
Next up I fitted the water pump and power steering pump, no real dramas there. The alternator is very close to the sub-frame but there is enough clearance for everything to work.
Last job was to refit the hood and chop a bit out to clear the intake
I'm using Megasquirt 3x so I can run sequential fuel and spark. It's got more features than I need but it's future proof. It will also communicate directly with my Megashift transmission controller via CAN so it keeps things simple.
Take one bare board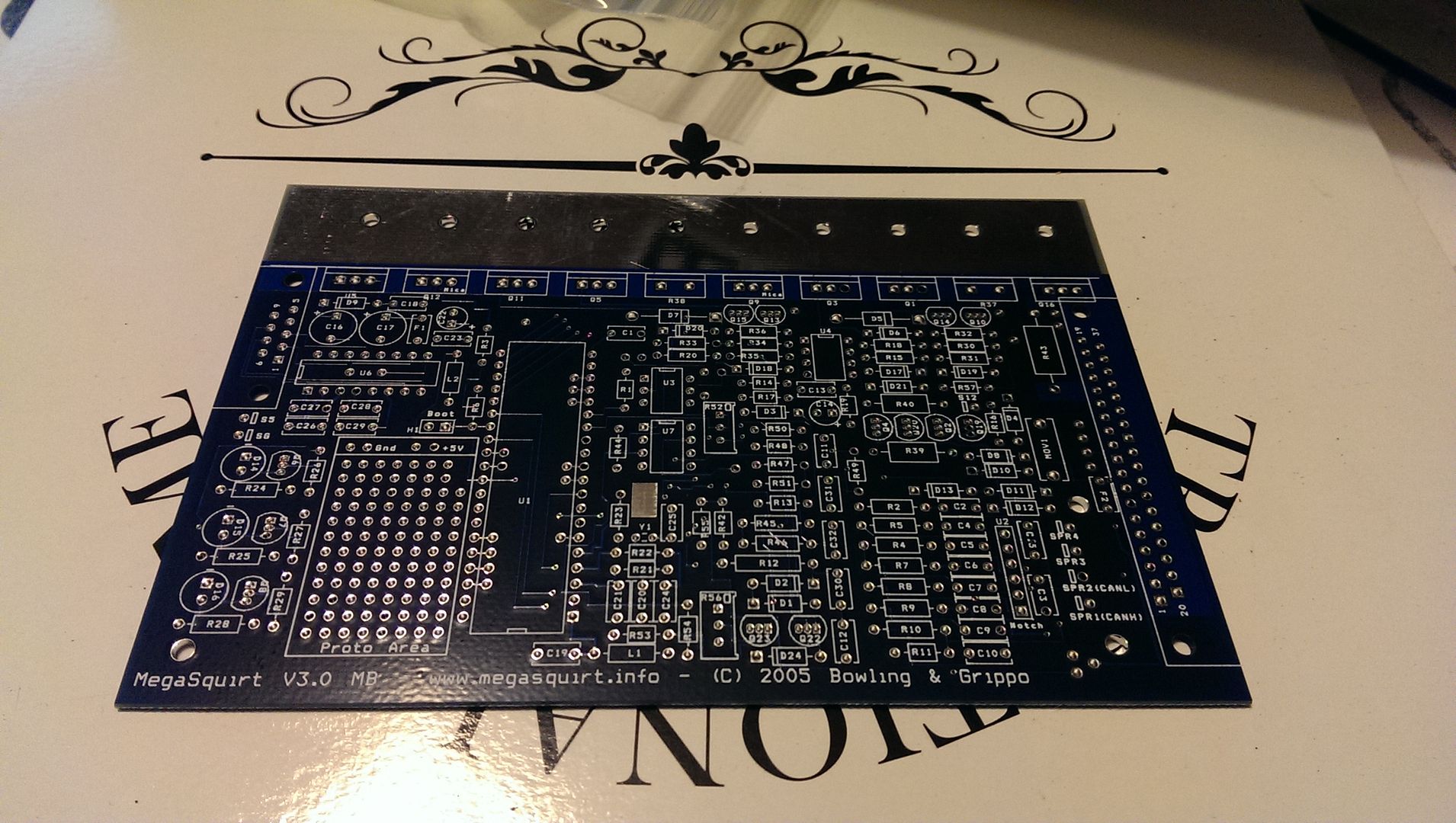 Do a bit of electrical witchcraft
It took me a full day to wire the engine completely.
Next I got the core support cleaned up and painted - 2k epoxy primer and then satin black top coat. Looks much better now. Let it bake in the sun for a few hours and then refitted it.
Dropped the radiator back in and worked out the hoses for it. Loads of clearance to the underside of the hood and it all worked out quite neat.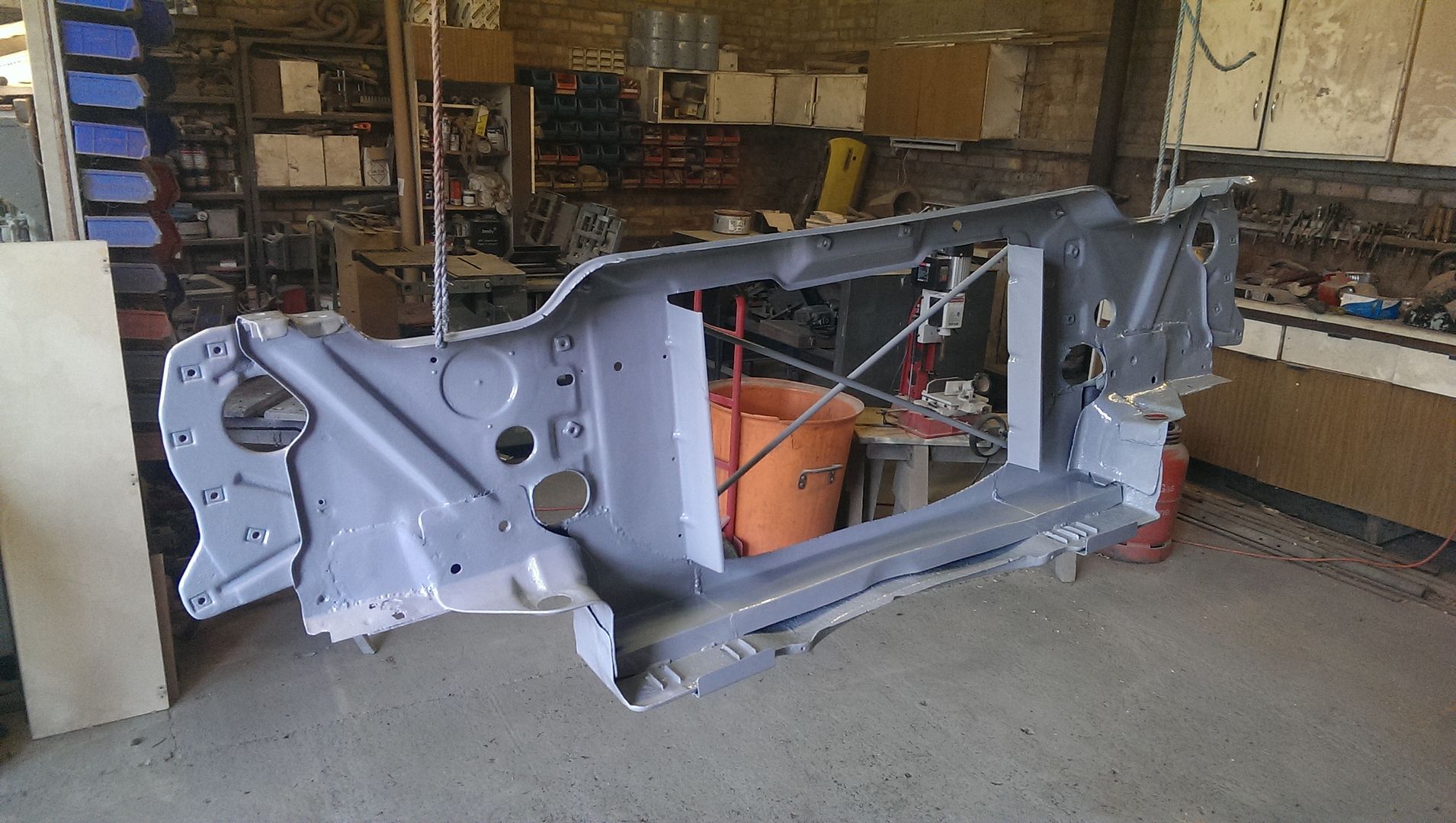 Mounted the new fuel pump. I thought an upgrade would be beneficial with the new engine. The new one being an AEM 380lph pump. Enough to support my HP goals with some to spare...
Cut a stainless plate which bolted to the mounts I'd previously welded to my tank when I fitted my original pump, fitted a decent sized pre-filter, just need to finish the fuel lines off and I can stick some fuel in it and see if it leaks.
Ignore the low hanging mufflers, nothing connected the other side at this point...
Next up, some fabrication...
Was never happy with the g-braces I made the first time around, it was a rush job and they clashed with the hood hinges. So I cut them up and remade them - this time I didn't have the brake booster to worry about as I now have hydroboost. I'll get them powder coated this week I expect.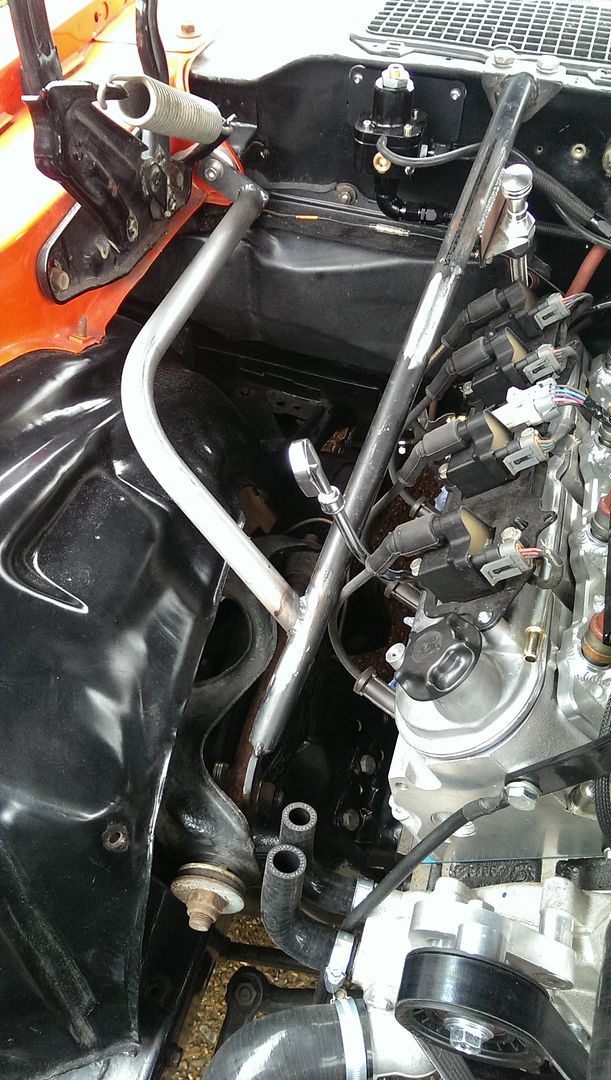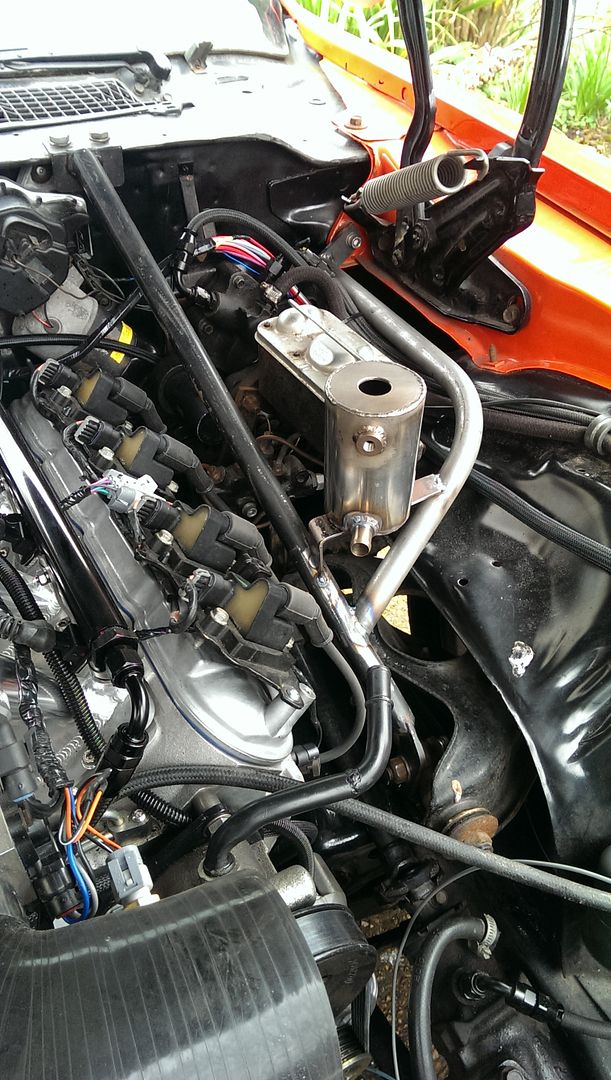 You have to love a friendly powder coater.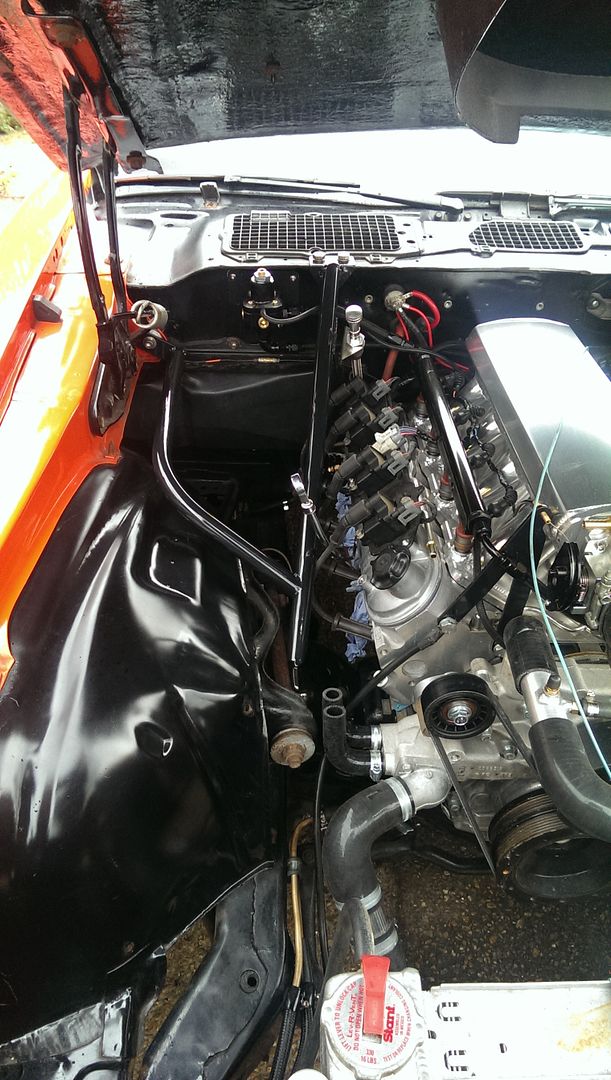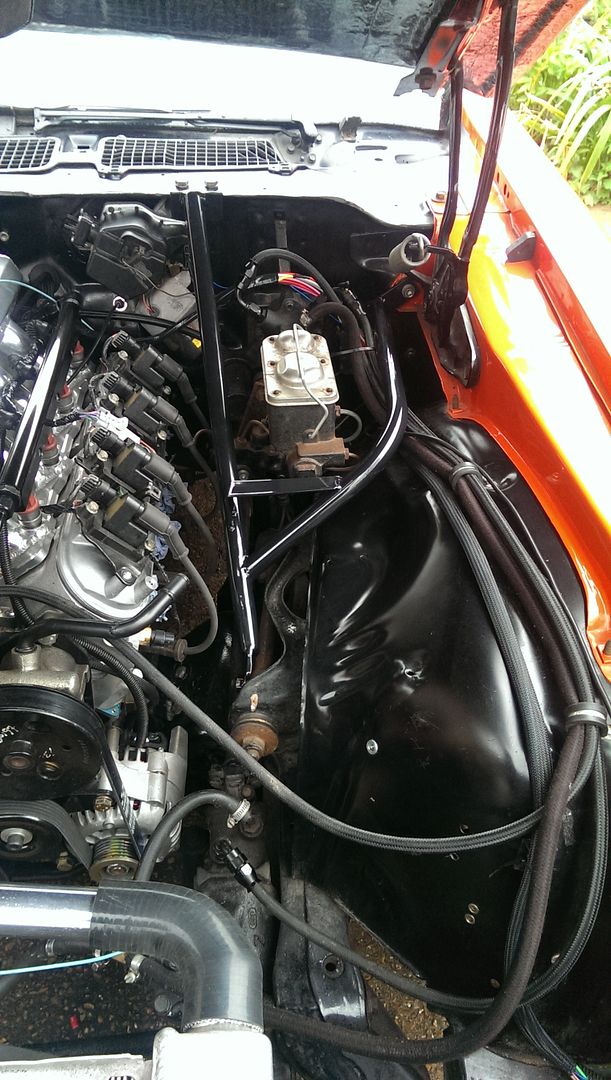 Last job was to fit the exhaust and reconnect the rest of the system