Below is the OS-6 race report from the MOPAR's weekend, it will be going off to American Car for print tomorrow.
Outlaw Street OS-6 Race Report
Written by Mark Wallington
Photography by Ingrid Chesworth27th – 29th July 'MOPARS' Weekend at Santa Pod Raceway
The MOPARs is a long standing traditional favourite with all Outlaw Street members who milk every last drop of American muscle car heaven from the three day event, arriving early Friday morning and racing all weekend through to Sunday tea-time.
This year was no exception with over 39 members and 23 cars attending across the three days, out for the first time this season were Allan Matthews in his OS-34 '69 big block Mustang, accompanied by fellow Mustang fan Spencer Chittenden in his OS-36 '69 Mustang, out for the Chevy camp for the first time were Andy Blackett in his '68 Camaro and Outlaw Street sponsor Chris 'W-A-S-P' in his big block powered Camaro.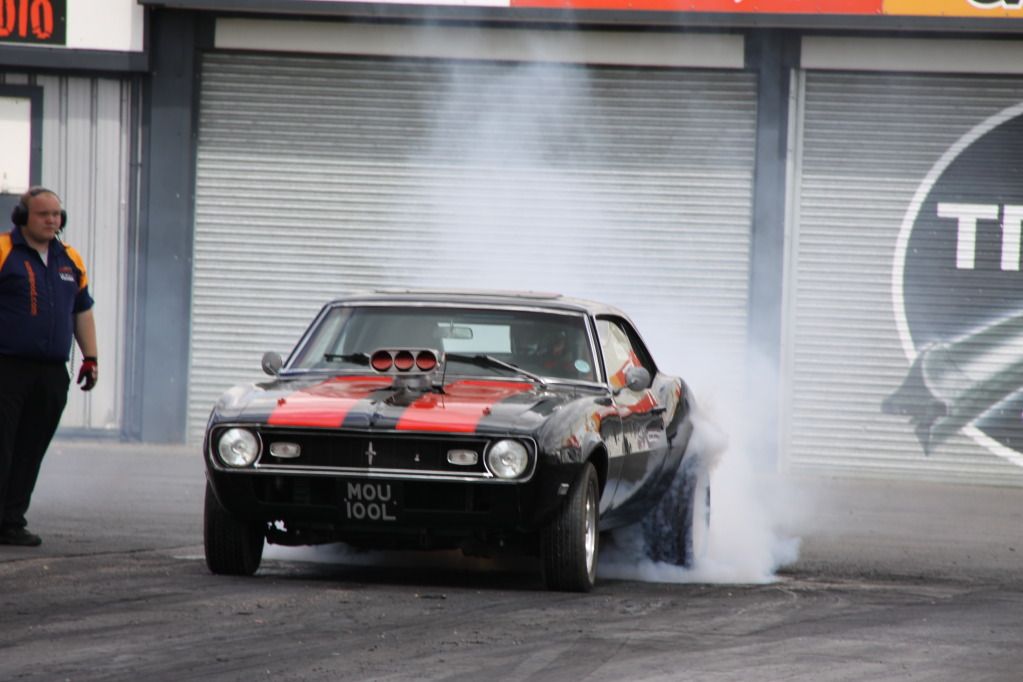 The Friday was the day for track time with very little queues and a nice sticky track which quickly yielded several members new PB's for the season, the Saturday due to the vast volume of muscle cars, classics and modern yanks meant the fire up lanes often stretched the length of the ¼ mile, meaning less runs but plenty of time to shoot the breeze with other car nuts, and check out the vast array of rare muscle cars sat in the lanes.
The long weekend of racing gave several members the chance to try and chase after one of the Joe & Co sponsored Reaction Time trophies and prize money.
At OS-6 the RT Trophy and prize money were won by
OS-19 Steve Moisey with a 0.04 RT
, in his late model supercharged Mustang, this was a welcome surprise for Steve who'd suffered electrical gremlins on the startline on the Saturday afternoon.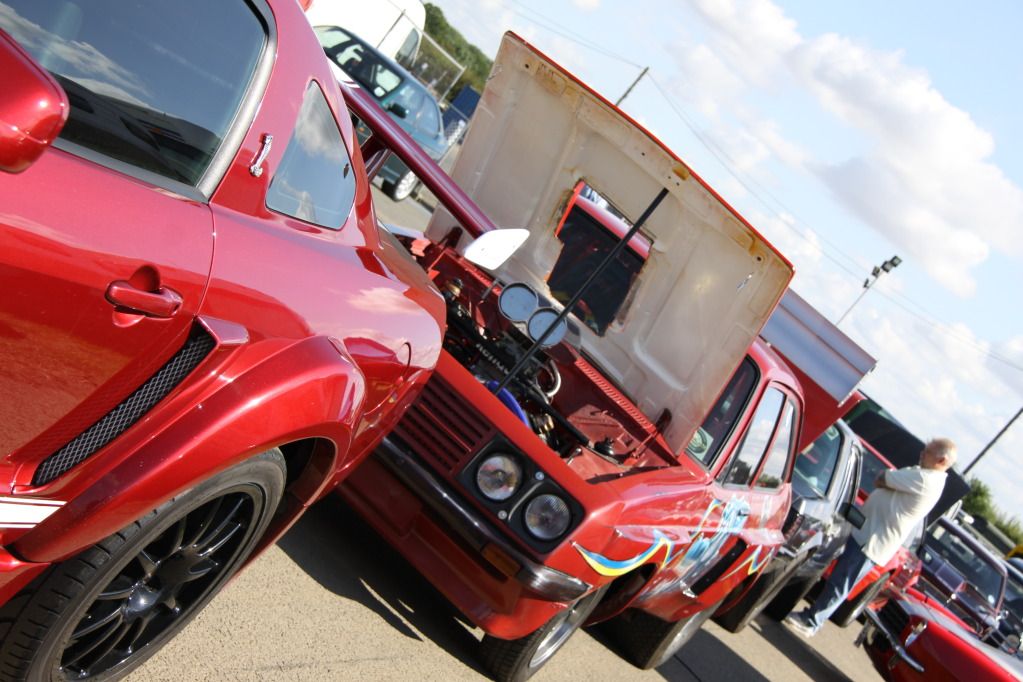 The top 6 RT's over the weekend were:
1. OS-19 Steve Moisey in his Cervini Mustang with a 0.04 RT
2. OS-18 Vic Fisher in his supercharged V6 Mustang with a 0.1177 RT
3. OS-35 Tom Semper in his zetec powered 100e with a 0.1352 RT
4. OS-43 Derren Brown in his small block powered Escort with a 0.1503 RT
5. OS-16 John Edwards in his 347 powered Mustang with a 0.2444 RT
6. OS-13 Stuart Ramsay in his pro-street '67 Camaro with a 0.2547 RT
That's
0.0952 of a second separating 1st and 3rd
and an eye watering
0.0777 of a second between 1st and 2nd.
At each points round the highest points scorer wins a year's subscription to American Car magazine and a unique one of a kind engraved tankard by MissB Engraving.
The OS-6 winner of the year's subscription and engraved tankard was won by
OS-48 Martin Green in his pro street Ford Consul with 216 points
, this is Martin's first season in Outlaw Street and his first win to date, although I sense there's a lot more to come in the future.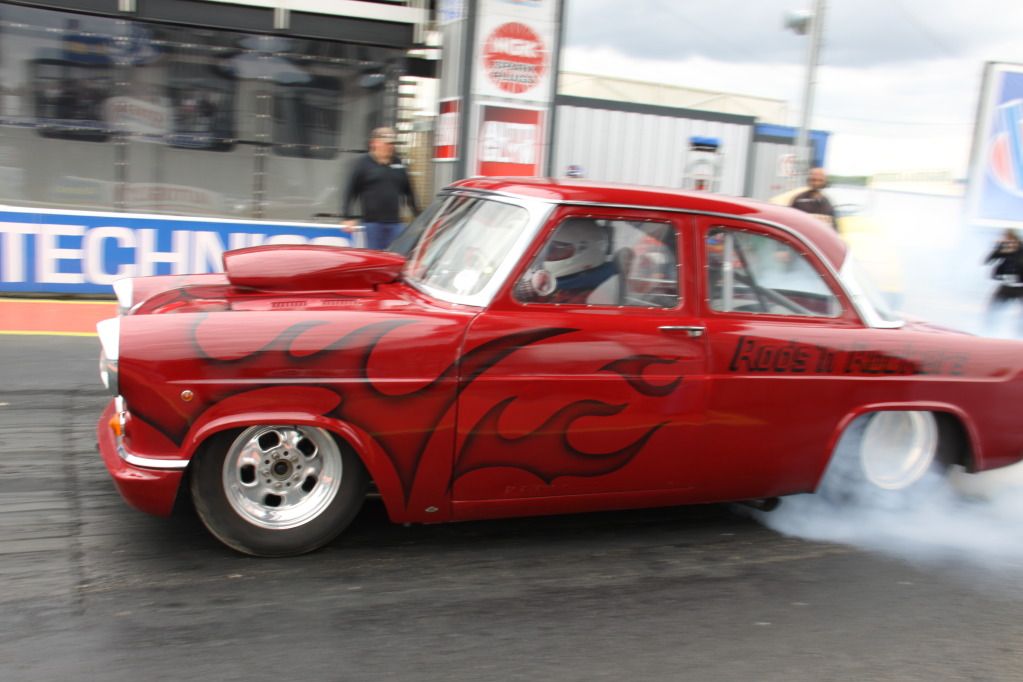 The top 6 points scorers for the weekend were:
1. 216 points OS-48 Martin Green in his pro-street Ford Consul
2. 215 points OS-13 Stuart Ramsay in his '67 big block Camaro
3. 215 points OS-31 Nick Rose in his supercharged convertible Mustang
4. 215 points OS-50 Roy Collins in his supercharged pro-street Camaro
5. 215 points OS-11 Joe Mills in his 347 V8 powered Fox Mustang
6. 215 points OS-2 Ian Mather in his small block powered Cortina
We're 6 rounds into the 2012 season with 3 more to go and the gaps are closing, with everything to race for, there's
468 points between the top 12
, with only
58 points between the top 6
and a jaw dropping
7 points separating the top 3
....!
As of OS-5 the 2012 League Table looks like this:
1. 1,110 Points OS-7 Andy Murton
2. 1.104 Points OS-50 Roy Collins
3. 1.103 Points OS-13 Stuart Ramsay
4. 1,095 Points OS-31 Nick Rose
5. 1,052 Points OS-16 John Edwards
6. 1.049 Points OS-53 Chris Antell
7. 1,048 Points OS-18 Vic Fisher
8. 863 Points OS-19 Steve Moisey
9. 837 Points OS-40 Steve Newport Hall
10. 671 Points OS-42 Nigel Jenkins
11. 654 Points OS-11 Joe Mills
12. 642 Points OS-43 Derren Brown
REMEMBER
that this picture will change dramatically as the season progresses, especially if members near the top of the table miss a round, or suffer breakages ect, also at the end of the season members drop their lowest scoring round of points + the 25 attendance points from the 1st round they attend.
If you'd like to learn more about Outlaw Street check out the forum at
http://www.outlawstreet.co.uk
.
The next round of Outlaw Street, OS-7 is on the 1st & 2nd September 'VW Action' weekend at Santa Pod Raceway.