Outlaw Street OS-9 Race Report

By Mark Wallington

29th – 30th October, Flame & Thunder, Santa Pod Raceway
For the final round of the 2011 series Outlaw Street were definitely going to 'go out with a bang', as Santa Pod had invited us to hold our final round during their Flame & Thunder event giving members the opportunity to not only promote the series to the general public, but to also race in front of a packed bank and grandstand on a fully race prepped track.
This was greatly appreciated by members who all became 'mini celebrities' for the day with untold cameras going off and people asking if they could have their pictures taken next to, sat in (and on a couple of occasions even sat on), the cars!
All in all a great way to promote drag racing to the masses.
Despite this sudden 10 minutes (or in some cases 8 seconds) of fame, members were all still focused on racing and trying to squeeze that final PB for the 2011 series from their cars or chase down that elusive Reaction Time trophy.
Of the 15 cars attending 4 set new PB's which is a great way to end a seasons racing, congratulations to:
OS-21 Rob Slater in his 1957 Chevrolet with a PB of 10.18 @ 131.68mph
OS-12 John Latham in his PT Cruiser with a PB of 16.06 @ 87.86mph
OS-13 Stuart Ramsay in his 1967 Camaro with a PB of 8.96 @ 153.67mph
OS-42 Derren Brown in his Chevy powered Ford Escort with a PB of 12.59 @ 108.19mph
The American Car magazine, year's free subscription was won by:
Rob Slater in his OS-21 1957 Chevrolet scoring 223 points
a great weekend for Rob with a PB AND a year's free subscription to the magazine.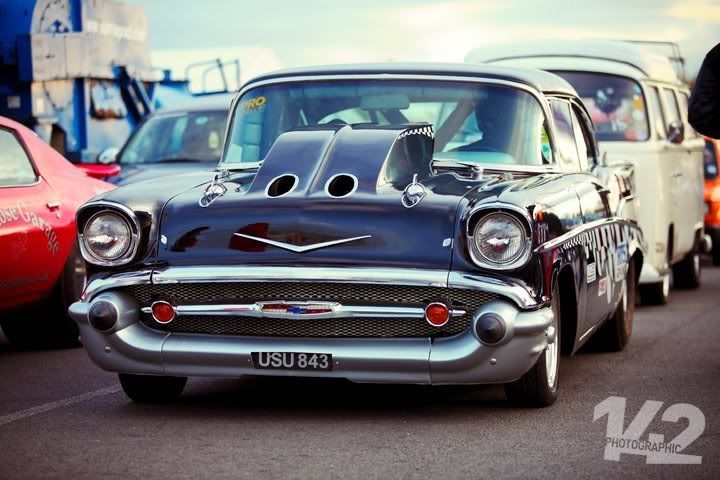 The
'Joe & Co'
sponsored RT Trophy was being chased frantically by all those members desperate to try and own the very last 2011 RT trophy and try and secure the best RT for 2011 in the hope of winning the huge end of year trophy, amazingly only
0.01157 of a second separated 1st and 2nd place!
With the win going to:
Vic Fisher with an impressive 0.0487 RT
This is the 4th 'Joe & Co' RT Trophy Vic has won during 2011
The top 6 RT's were:
1. OS-18 Vic Fisher in his supercharged V6 Mustang with a 0.0487 RT
2. OS-13 Stuart Ramsay in his 1967 Camaro with a 0.1644 RT
3. OS-11 Joe Mills in his Fox Mustang with a 0.246 RT
4. OS-43 Derren Brown in his Chevy powered Escort with a 0.2464 RT
5. OS-44 Ian Jackson in his 4th Gen Camaro with a 0.324 RT
6. OS-12 John Latham in his PT Cruiser with a 0.3578 RT
As the 2011 series draws to a close this now just leave the somewhat infamous Outlaw Street Prize Night on the 26th November where the winners for every category and class are announced, an article with the winners, loser and presentations will be available for the next edition, but I can confirm that only 63 points separated the top 3!